Import Log Interpreter
The Import Log Interpreter is a FileMaker Pro-based Import.log file reader. Any time you copy or import scripts, tables, fields or functions from one FileMaker Pro file to another, this tool will use the import.log file that FileMaker Pro creates to show you exactly what was imported and what notices or errors were produced in the import process in an easy to understand presentation.
Browsing the Import.log File
Click the screenshot below to see a demonstration video.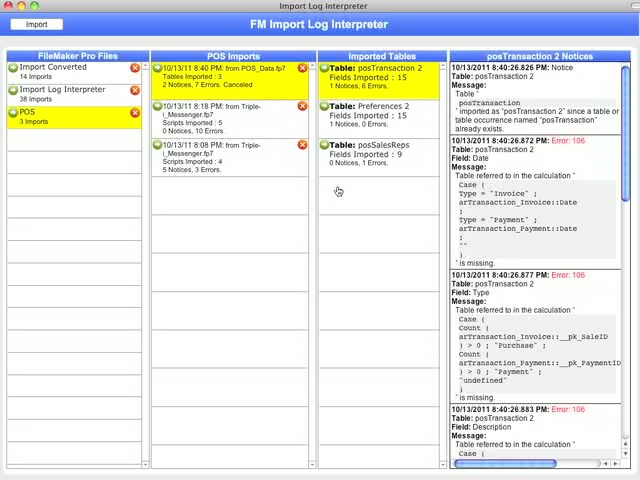 Note: Import Log Interpreter currently only supports English language log files. If you are interested in assisting with translations to receive a free copy of Import Log Interpreter supporting your language, please contact us.
Pricing
Here's what you get…
Features
Price*
Single License

Easily "Import" The Import.log File.
Clean, Simple & Powerful Interface
Easily Browse Import Results
Find Errors At A Glance
Make the most of use of FileMaker's Import.log files.

$14*
Site/Household License

Same as above, and …
Use on all computers within your organization or household.

$29*
*Requires FileMaker Pro. FileMaker Pro licenses are not included in the price and can be purchased directly from FileMaker Inc. at FileMaker.com.