Simple Sale POS
Simple Sale POS is a FileMaker Pro-based Point of Sale System that is customizable and expandable. Unlocked developer license is available as well as an unlimited usage site license with customization capabilities.
You can customize the solution yourself or ask our experienced, certified FileMaker Pro developers to assist you. Either way, you will save tens of thousands of dollars in custom development costs while still reaping the benefits of a custom system.
Point of Sale Features
Handle all of your point of sale transactions from within a FileMaker solution. Select your sales items from a searchable list and click on one to add it to the current sale shown.
Keep track of inventory numbers and history with basic inventory tracking.
All Simple Sale POS layouts are optimized for FileMaker Go on the iPad.
You can customize Simple Sale POS to trigger actions within your FileMaker system when certain items are purchased (developer license only). For instance, if you sell event registrations, purchase of an event registration can trigger the registration process.
Includes multiple sales reports complete with graphs and charts.
Other Features
Contact Management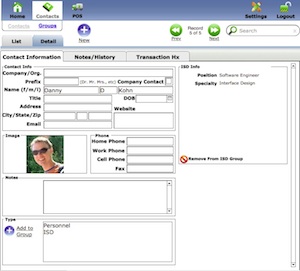 Contact management is at the heart of all Inspired Business Suite products and is included in the Simple Sale POS package. This module features search-as-you-type functionality, multidimensional grouping and tagging of contacts, powerful filtering and a clean, intuitive interface that can be easily customized from a central layout.
Keep track of your interactions with your prospects, personnel or any important, historic events in your relationship with your contacts. Specify keywords to flag while typing. You can even specify forbidden words to prevent your employees from using inappropriate language within your contact history.
Manage duplicate contact records with a quick list of potential duplicate contacts. Selectively merge the records, or ignore non-matches, all within the contact detail layout.
Dynamic Searching While You Type
Throughout the Simple Sale POS system, search fields exist to allow you to instantly search through data.
World Class Interface
Clean, consistent and simple. Puts power in your hands without requiring a steep, expensive learning curve.
Data Separation Model
Separation of data and interface allows future development to occur without disrupting use or threatening live data. FileMaker user accounts are managed by Simple Sale POS, so no need to worry about synchronizing accounts.
Pricing
Here's what you get…
Feature
Simple Sale POS
POS & Time Clock
POS
√
√
Time Clock
-
√
Contact Management
√
√
Contact Notes
√
√
Also features

Dynamic Search
A World Class Interface
Easily Customizable Interface
Data Separation Modal
Complete User Account Management
Duplication Management (FMP 12 Version Only)
Basic Inventory Tracking

√
√
Multi-User Site License

Unlimited users may connect from an unlimited number of computers within your organization.
Customize appearance and setting.
No development access, but can be upgraded at any time.

$160*
$260*
Multi-User, Developer Site License

Unlimited users may connect from an unlimited number of computers within your organization.
Customize appearance and setting.
Full development access to inspect, modify, integrate, etc.

$260*
$360*
*Requires FileMaker Pro. FileMaker Pro licenses are not included in the price and can be purchased directly from FileMaker Inc. at FileMaker.com or at a discounted rate from Inspirations Software Design, LLC with your Simple Sale POS purchase.